"Seek relationships with people who inspire and challenge you to be the best version of yourself - in your personal and professional life" with Lacey Kaelani & Jenna Kammo

Lacey & Jenna are the co-founders of media-tech startup Casting Depot, a marketplace for creators and talent to engage and source gigs. Casting Depot is the only platform to be a complete end-to-end solution for every type of casting utilizing social functionalities to drive engagement for users.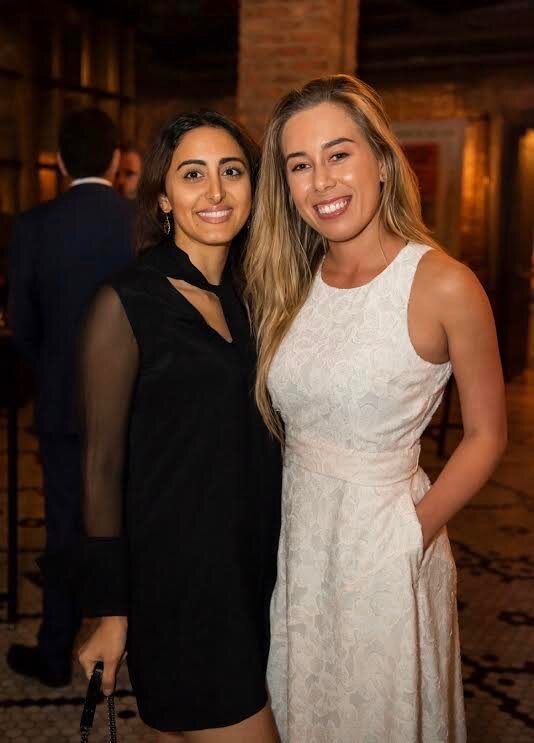 Can you tell our readers about your background?
Lacey: My undergraduate was in economics and my graduate is in finance. I always thought I'd go into economic analytics. I had an opportunity to interview for Nickelodeon Animations' BA department as an intern and was unfortunately turned down. That was a tough pill to swallow. Instead, the head of the department offered me a position in casting and development. I had no idea what that entailed but took it anyways to get my foot in the door. That internship experience was incredible dare I say… magical? 
Eventually, that lead me to New York where I continued to intern for the Viacom brand in their development department under one of the SVP's of Casting & Development. I fell in love with creating ideas for TV shows and the art of "the pitch".
Jenna: When I landed my first interview for a PA position with a talk show at NBC, my mother actually drove me to the interview - yep, from Detroit, MI to Stamford, Ct. My interviewer asked how long I had been living on the east coast for, I smiled and said, "about two months. I'm loving it here!" – knowing full well my wonderful mother was outside waiting for me. I couldn't let something as minute as living 11 hours away stop me from getting the job, right? I stayed with that show for 3 years and then got into freelance casting before working on another talk show. The combination of working on talk shows and freelancing on different genres in the unscripted space shaped my knowledge of this industry.
What inspired you to start your business?
Lacey: In 2018, we had both been at a point in our careers where we were tired of working for other people. I absolutely hated developing concepts that I wasn't passionate about, nor made a positive impact on the people that viewed them. She, on the other hand, hated casting for talk shows. We were on set one day and had the typical startup conversation of "I think we can do this better and for ourselves". We ended up leaving our fulltime jobs about two months later and voilá! Casting Depot was born.
Over the course of 2019, we ended up casting for Fortune500 companies such as Hearst Media, Bustle Digital Group, HGTV, MTV, and more.
At the end of 2019, we decided to pivot our business. We were consistently frustrated with the casting workflow process and needed a more efficient way of booking talent for our gigs. So – we decided to turn our small casting company into what it is now – an online marketplace for creators (like ourselves) and talent to engage and source gigs. We have an incredible team now, including our CTO Brad Larson.
Where is your business based?
Jenna: Our office is based in NYC but our business operates nationwide.
How did you start your business? What were the first steps you took?
Lacey: When we went to create our marketplace, we knew we needed a talented CTO that could execute our vision. That was the first step. From there, we brainstormed solutions to the problems in our industry and went on to write out or execution plan. In order to create a successful business, it's important to understand the pain points within the market that you're trying to solve first.
What has been the most effective way of raising awareness for your business?
Jenna: Lacey and I are fortunate enough to have created a successful casting company over the past 18 months. Building brand awareness wasn't easy, but we did so through social media marketing and word-of-mouth referrals.
What have been your biggest challenges and how did you overcome them?
Lacey: Raising institutional funds for a media-tech company is tough, especially as a first-time founder. Luckily between advice from my close friends who are also founders and an MBA that taught me a tiny bit about the process, I was able to take a really daunting process and have a bit of fun with it. There's nothing more exhausting and exhilarating than "selling the dream". While it was a learning curve at first, I found that reading articles written by other founders, brainstorming with friends, and ultimately "winging it" helped me overcome the fundraising process.
How do you stay focused?
Jenna: Take breaks. You deserve them. The beginning of your career is definitely a hustle! There's no way around it. But this is a creative industry and you cannot force creativity; It'll come to you naturally. When I worked on talk shows, I thought I could only give myself a break when the show took its standard breaks (every 5-7 weeks and on summer hiatus); That's not sustainable for a well-balanced life. Listen to your mind and your body, reset as you need to.
How do you differentiate your business from the competition?
Lacey: When we went to create Casting Depot, we were eager to construct a foundation to support not only the professionals that cast, but also the talent that so desperately needed a reliable marketplace to book gigs. It's such a massive, decentralized market ($5BN) that we knew we had to build something that would give users the ability to create their own communities within our own. We dreamt of conversation bubbles in every type of casting — Broadway actors, aspiring TV personalities, experts that wanted to be on CNBC, and so on. That was our first priority. So — we ultimately ended up building that infrastructure so our industry could choose how they'd want to cast and create.
Our marketplace is a platform for creators and talent to engage and source gigs. We have all of the social functionalities of LinkedIn with the purposes of our casting competitors. Encompassing those hiring tools, as a casting director you can complete the entire workflow process end-to-end on our platform. Lastly, we're talent agnostic meaning that unscripted, scripted, theater, voice, modeling and commercial casting calls live on our platform.
What's your best piece of advice for aspiring and new entrepreneurs?
Jenna: "Surround yourself with the right people", that's something my beloved Aunt Mae would tell me. Positive people are a must. But more than that, seek relationships with people who inspire and challenge you to be the best version of yourself - in your personal and professional life.
What's your favorite app, blog, and book? Why?
Lacey: My favorite book is Shoe Dog. It's an incredible story of an entrepreneur who faced multiple pivots over the course of his business to not only better his understanding of the market but in order to change the market as we knew it.
What's your favorite business tool or resource? Why?
Jenna: My favorite resource is our team. It's invaluable and irreplaceable.
Who is your business role model? Why?
Lacey: My role model is Bob Iger. The acquisitions during his time at Disney were moves and decisions I hope to one day to make as well. He took the biggest risks in entertainment (especially at the time) during which stakeholders questioned his ability to lead. Obviously, they were very wrong.
How do you balance work and life?
Jenna & Lacey: We're still figuring that out. TBD!
What's your favorite way to decompress?
Lacey: I have two self-care activities that I indulge in often in order to take care of my mental health. First – I play soccer two-three times a week (or at least, pre-COVID) and work out consistently. Second – I do small things every day that make me smile such as grabbing coffee at a local coffee shop, buying myself flowers or reading thought articles on Medium.
What do you have planned for the next six months?
Lacey: Casting is arguably the most important building block in entertainment. A company is only as successful as its team, and consumable entertainment is only as good as the characters that are cast. A Casting Director can cast an entire show, play, AD campaign, etc., but the achievement and tenacity of it are reliant upon the characters.
Despite its importance, the current model of casting is an outdated trade. Known in entertainment as an archaic industry with analog methods of workflow, the current casting process needed a glossy and new makeover. Imagine being an HR professional without recruiting tools (like Indeed or LinkedIn) to source talent. That's the abbreviated frustration of the casting industry. Awful, right? Chime in our marketplace, Casting Depot, which has been our biggest project to-date. 
How can our readers connect with you?
@JennaKammo @LaceyKaelani @Followbl @CastingDepot